This blog is usually focusing on cultural differences. Most of the time I shade some light on cultural facts that make me laugh or at least amaze me. But for once, this post will celebrate cultural commonalities.

For a change.
If you have been reading this blog with attention for a while, you know Flavien, a friend of mine who decided a year ago to quit his job as a salesman to ride a bike from Paris to Jerusalem (first article
here
, the second
here
). Well, Flavien is about to pedal again. This time, his journey will start from the Holy City of Jerusalem and he will close the loop he initiated in 2006: he is about to cycle from Israel to France from the Southern side of the Mediterranean sea.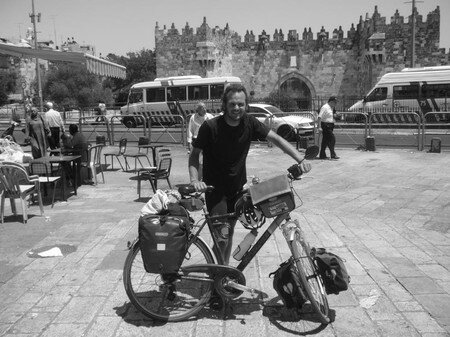 His earlier trip in the Middle East remains a vivid memory in Flavien's mind. The few conversations we had since, be it over the phone, on MSN or in person, are all consistent. Flavien has a true passion for Jerusalem, without being really able to put words on it. So instead he puts pictures on it... This led him to offer me the art book which inspired this post. The book of the eponymic Face2Face project is what British people would call a coffee table book, but it gives you more than coffee to brew. It make you think.
Portrait their resemblances.
JR, the photographer, and Marco, the scientist, both authors of this extravagant adventure as they qualify it, have introduced their book in such a brilliant way that I don't dare changing a word:
When we met in 2005, we decided to go together in the Middle-East to figure out why Palestinians and Israelis couldn't find a way to get along together. We then traveled across the Israeli and Palestinian cities without speaking much. Just looking to this world with amazement. This holy place for Judaism, Christianity and Islam. This tiny area where you can see mountains, sea, deserts and lakes, love and hate, hope and despair embedded together.

After a week, we had a conclusion with the same words: these people look the same; they speak almost the same language, like twin brothers raised in different families. A religious covered woman has her twin sister on the other side. A farmer, a taxi driver, a teacher, has his twin brother in front of him. And he his endlessly fighting with him.

It's obvious, but they don't see that. We must put them face to face. They will realize. We want that, at last, everyone laughs and thinks when he sees the portrait of the other and his own portrait. The Face2Face project is to make portraits of Palestinians and Israelis doing the same job and to post them face to face, in huge formats, in unavoidable places, on the Israeli and the Palestinian sides.
In a very sensitive context, we need to be clear. We are in favor of a solution for which two countries, Israel and Palestine would live peacefully within safe and internationally recognized borders.

All the bilateral peace projects (Clinton/Taba, Ayalon/Nussibeh, Geneva Accords) are converging in the same direction. We can be optimistic. We hope that this project will contribute to a better understanding between Israelis and Palestinians. Today, "Face to face" is necessary. Within a few years, we will come back for "Hand in hand".
This book is the embodiment of a wise, ambitious, and totally unofficial initiative that deserved to be better known. So, I am glad to spread the word. Be it Shalom, Salaam or Peace. You can buy their book and some posters here. And trust me it is totally worth it. And because images are worth a thousand words, here is a a video about this project, that will certainly finish to convince you:

FACE 2 FACE trailer by JR and Marco
submitted by 28millimetres